GUIDED TOUR OF In the footsteps of St. Bernardino of Siena
In the footsteps of St. Bernardino of Siena
ST. BERNARDINO WAS NOT ONLY AN IMPORTANT FIGURE IN THE CHURCH, BUT ALSO AN ASTUTE OBSERVER OF THE SOCIETY HE LIVED IN
ST. BERNARDINO WAS NOT ONLY AN IMPORTANT FIGURE IN THE CHURCH, BUT ALSO AN ASTUTE OBSERVER OF THE SOCIETY HE LIVED IN
This tour will introduce you to the Sienese orator-saint, who was born in Massa Marittima in 1380, the year of the death of St. Catherine of Siena.
We'll visit the grand basilica of S. Francesco, where Bernardino began his religious career, and the nearby Oratory dedicated to him, with splendid frescoes by Domenico Beccafumi, Sodoma and Girolamo del Pacchia depicting episodes from the life of the Virgin Mary.
In Piazza del Campo, we'll read some passages from the saint's celebrated sermons – still germane today – and then continue on to see some of the most important places of his life in the city, like the location of his first sermon, and the hospital where he assisted the sick.
Map tour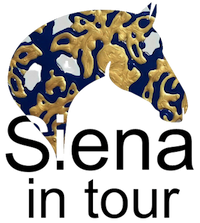 Information request
For prices, you can contact me at e-mail info@sienaintour.com or fill out the form; costs may vary based on group size, duration of tour and type of tour chosen.
There are special offers for packages of multiple days of guided tours. In the case of cancellation less than 24 hours in advance or no-shows, the entire sum agreed upon will be due.